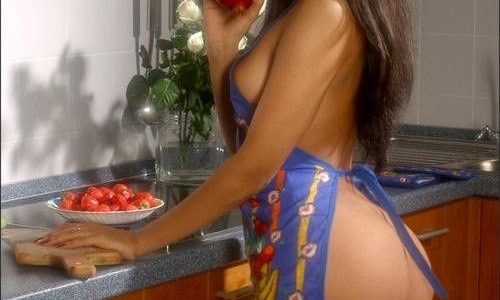 6 Simple Steps to Ultimate Pegging Pleasure – The Recipe for Success
While anal play is by no means a new practice, the number of straight men harbouring desires to be on the receiving end has become much more commonplace. So, by popular demand (fanfare please) we present our Recipe for Scrummy Strap-On Sex.
What is Pegging?
Nothing to do with laundry, pegging is the practice of a heterosexual male being anally penetrated by a woman wearing a strap-on dildo. This became a popular notion in 1998 when Sex Educator, Carol Queen made the video dvd 'Bend Over Boyfriend. The term 'pegging' came to be when sex columnist, Dan Savage, held a contest in 2001 asking his readers to coin a phrase for the practice.
Preheat the Oven
There a several things to consider when thinking about exploring pegging. Its good to start slow. Before investing in a harness and dildo, experimenting with fingers, small butt plugs or small prostate stimulators, can help both parties discover what they like and don't like about anal play.
The Shopping List
When you feel ready to try strap-on sex, choosing the right harness and dildo are very important and can make all the difference to your level of enjoyment. If a harness fits incorrectly, it can make penetration awkward —perhaps even a no go. If you get overexcited and choose a dildo that is too gargantuan, it can make the experience quite unpleasant if you are a beginner.
Mix the Ingredients
Try to find an affordable but higher quality harness that can worn as either a one-strap or two-strap style so you can choose what is most comfortable. Try also to find one with a removable backing pad for stability. When it comes to choosing your weapon of choice, look for a dildo that is smooth with no distinct ridges so penetration will be smooth and more comfortable. You can always try out those deliciously pleasurable ridges once you are a veteran. Oooh! Don't forget the most vital ingredients of all — communication and lubrication!
Decorate to Taste
Some couples also want to try double dildos, which have one end that is worn internally by the lady-friend, while the other end stands ready to penetrate their excited pegging partner. Some also have vibrators in that can stimulate the wearer. A perfect 'double ender' for pegging newbies would be one with a large wearable bulb that can be inserted vaginally on one end, and a finger-sized dido at the other.
And Serve….Right in the Butt!
No calories and totally indulgent. If this article has intrigued you to investigate further, get online and check out the horde of perennial bestselling books that cover every type of anal play imaginable, including pegging.Have you tried pegging? Is it a fantasy of yours? Share with us in the comments.