THERE IS NOW A EMOJI SHAPED VIBRATOR. CAN YOU GUESS WHICH ONE?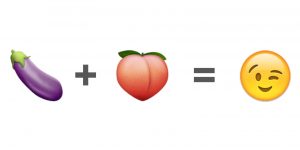 The humble aubergine emoji gets a lot of stick. Mainly because apart from representing an actual aubergine, the only other thing it resembles is a penis. There I said it.
Most emojis have multiple uses, a variety of interpretations: not the aubergine. For the record: I've always thought aubergines as a food stuff are underrated, but that's another story.
stature of the aubergine by creating an aubergine sex toy.
The Emojibator is a vibrator in the shape of the aubergine emoji. The website says that 'With the Emojibator, we aim to make masutrbation fun, easy and accessible'. According to the Huffington Post, the creator, Jaime Jandler who is from Philadelphia, said of the product, 'Whether you're looking for self pleasure, a playful and perfect gift, or embracing the inner vegan, the Emojibator will certainly please.'
It's got 10 vibration settings as well as being waterproof. It retails at $32 (about £24) but sadly they're currently only shipping to the US so watch this space.
What emoji will be next? The corn-on-the-cob? The hot dog? The banana?