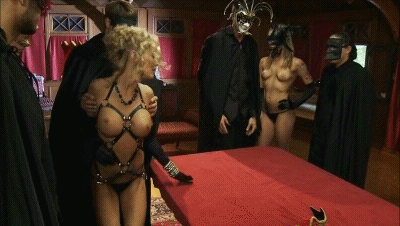 Light & Dark: Kinky and Vanilla Suggestions to Add BDSM to the Bedroom
For the Not-so-Kinky
Sight is one of the easiest senses to block, and because we rely on it for so much of the input of information to our brain, it can add the excitement of anticipation!  Try a comfy yet secure silk  blindfold and start with short sessions of usage with the non-blindfolded partner describing what they're doing!
For the Kinky
While blindfolding might be the simplest way to deprive someone of sensory input, it isn't the only way; plugs can be used in nostrils to block sense of smell and noise cancelling ear plugs are perfect for completely deadening sound.  The sense of taste, which will be deadened with a plugged nose, can also be altered with things like sour candies or numbing cough drops.  For extremely advanced partners, you can also incorporate bondage from multiple points so that the bound partner feels their body being pulled equally in all directions.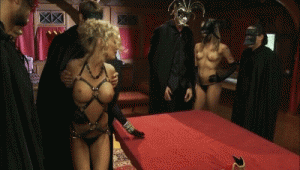 Bondage
Bondage is the B in BDSM, and it's often where people begin when it comes to kinkier sex. It involves sexual gratification through being restrained (or restraining a partner) during sex, which may or may not be part of role play.
Depending on what you're using to tie up your partner, it has different levels of risk and should still be approached with care and caution; use safe words, never ever use restraints around anyone's neck, and don't be afraid to check out your local sex toy retailer to see if they know about any bondage workshops in your area!
For the Not-so-Kinky
Many people have experimented with the sort of cheap plastic handcuffs that are almost synonymous with bachelorette parties, which are a good way of finding out if you might be interested in being tied up, but not the best way to actually practice it as they tend to be very uncomfortable and break easily.  Neckties or Cufs will hold up to more tugging and give you a bit more flexibility.
For the Kinky
Want to be stretched to your limits? The X-body positioning of being tied at both wrists and ankles across a bed can be turned up a notch with the addition of a spreader bar.   This is a rigid piece of equipment with cuffs for both legs on either end so that when someone is wearing it, they are unable to close their legs.
Alternatively―and with safe words and time limits negotiated firmly beforehand―bondage can be used to put the bound partner in any manner of slightly more uncomfortable position with multiple tied. Advanced bondage practitioners often pick up shibari, which is a type of Japanese rope bondage that definitely has a learning curve, but can be used to make beautiful full-body bounds!
Sensation Play
Sensation play is anything that falls under the category of exposing skin to different feelings on the skin. Two of the main ways that it can be incorporated into sex are with temperature play and impact play.
For the Not-so-Kinky
We already experiment with different sensations every time we enter the bedroom! When we alter our touch from a light caress to a firm squeeze, when we run our fingers through our partner's hair to when we pull; this is all technically sensation play.   Feather teasers are a great way to tickle your partner's fancy―but think more creatively in terms of where on their body you try it!  Temperature play, which involves using hot and cold items to tease the skin, can be experimented with using ice cubes or cold spoons,  or sexy candles for the delicious feeling of a hot oil massage!
For experimenting with sensations of pain, stick to the body parts you have rather than adding implements―our teeth, fingers and nails are perfecting for biting, pinching and scratching, and it's much easier for an inexperienced player to adjust the intensity than if they're using a tool!
For the Kinky
If you'd like to turn up the heat in the bedroom, there are plenty of other options for temperature play.  Hot wax can be used to make beautiful patterns on your partner's body―with a side of delicious anticipation as they wait for the next drips! Make sure to use candles specially made for wax play, and as a general rule, start by holding the candle quite high above your partner's body and working your way closer as they instruct you, as the farther the wax has to fall, the longer it has to cool. If you tend to run cool, well, let's just say one of the more creative ways to use a condom is to form your very own sex toy in it from ice!
When it comes to impact play―using hands, whips, floggers, paddles, etc  to strike parts of the body―it always pays to start slow (or rather, soft) with a partner and work your way up.  Tips for beginners in spanking, such as removing rings and not leaving marks, for example, may fall by the wayside once you're both comfortable, but certain rules, like never striking the spine, tailbone, kidneys or ears must be heeded as they can cause permanent and serious bodily harm.
Group Sex & Swinging
Whether it's a key party, a threesome, or cuckolding, there are  many reasons to be drawn to the thought of being intimate with someone other than your primary partner, if only because it is so taboo!
For the Not-so-Kinky
If you've talked about being turned on by seeing your partner with someone else, sometimes that's all it needs to be―dirty talk! But there are other ways to indulge in the desire for the unknown without non-monogamous practices.  For example, if you are both turned on by the thought of a threesome but unsure if you'd like to actually have one, you can both simply watch erotica portraying that during sex or mutual masturbation. If the thought of anonymous sex turns you on, you can try one of the most popular bedroom role plays, 'The strangers who meet at the bar'!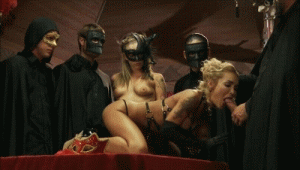 For the Kinky
One of the most important things to remember when including someone within your coupled play―either directly, as with a threesome, or indirectly through cuckolding―is that you need to treat the extra party as a person, not simply a prop for your sexual play. Be upfront about what you want and expect from the encounter but never forget to ask the same of them!
It's also important to remember that if you attend a sex party with a partner that not only do your limits need to be discussed beforehand―a sex party doesn't need to mean having sex―but also discussing how you want to handle it if you or your partner decide that you're comfortable doing more or less than you planned on.
Aftercare
While those less familiar with BDSM may not have a name for it, aftercare is something we all practice―or should practice―in some form or another after pretty much all sex. Aftercare is the check in after all stimulation has stopped where you kiss, cuddle, caress or discuss how you both feel.
While some acts like spanking need more aftercare, like applying lotion to smarting skin, it's also important to remember that aftercare that incorporates talking is good both for tops and bottoms as it brings you closer and does away with any potential misunderstandings about the scene that preceded it. Also, it can be pretty sexy in its own right!